In order to expand your business to other countries and reach more customers in a proper way, you need to know so many things before you even start. For example, here are just some of them:
The size of the local market
Competitors on that market
The knowledge of the target audience
SEO.
"Wait a minute. I've spent a lot of time making sure that my SEO is as good as it could possibly be, what do you mean?"
Regardless of how good your current SEO strategy is, doing these things on the international level is a little bit different. In addition to typical concerns like keyword research, you'll have to think about localization, hreflang implementation, and other things.
So, if you would like to know how to do it in the right way and give your business a good chance of competing on the international level, read below. I've compiled a list of nine specific steps that you should follow to make sure that your international website provides the best possible user experience and attract traffic.
Let's go.
Step #1: Study Market
Getting to know the local market through research is one of the most important things that a business should do to make a decision about whether to enter it. If you have your foreign markets defined, you can skip this step, but if you would like to know how to use Google's amazing free tool for market research, continue reading.
This tool is called Market Finder and it's very simple to use.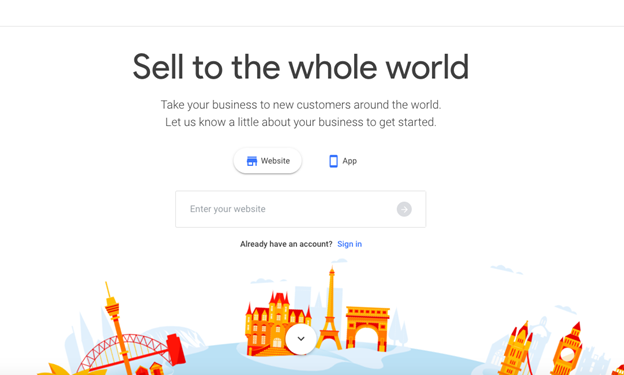 To get started with international market research, you should share some details – the URL – and press the blue arrow button in the search bar. Market Finder will start analyzing your website to provide you with the top market suggestions.
For example, here's what it came up with when I used it.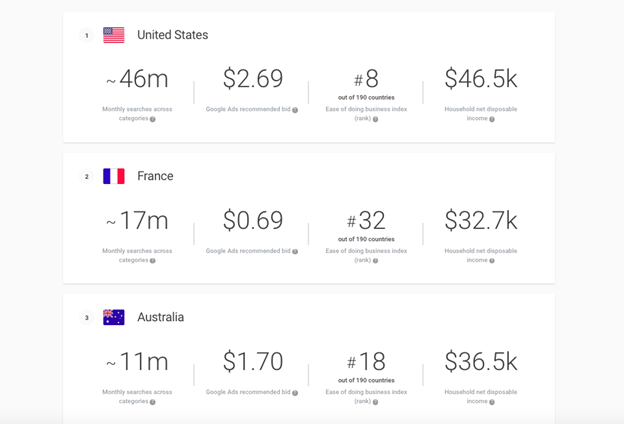 As you can see, each suggested market comes with the following data:
Monthly searches across categories
Google Ads recommended bid
Ease of doing business index rank
Household net disposable income.
This data could certainly be helpful for you as a business owner to make a good decision about whether to enter that market. If you want more (of course, Google has a lot more data to share), scroll down to the bottom of the page and subscribe to the full service by providing your email address.
It takes less than a minute but gives you access to the full list of suggested markets. Moreover, each of them comes with more specific data, as you can see on the below image.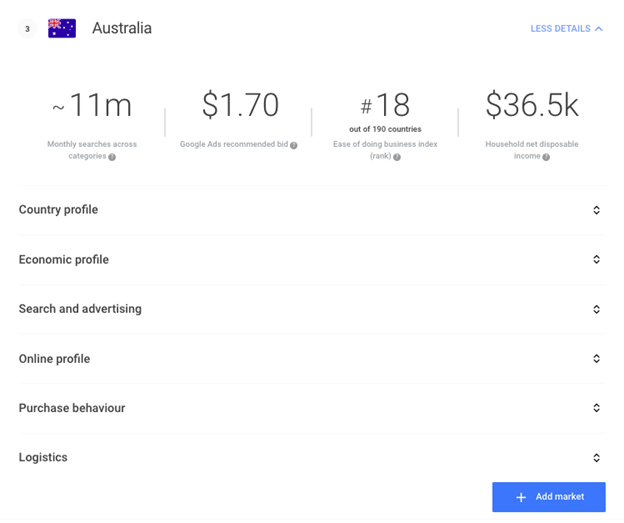 Some of the most useful data categories include Search and Advertising and Purchase Behavior. For example, the first respective category contains data on the monthly searches connected to your product category.
The bottom line here is that Google's Market Finder lets you access the current state of the market you're trying to enter as well as get an idea of search volumes that you can target with your SEO strategy.
Step #2: Decide Whether to Target Languages or Countries
While it's easy to assume that one language is primarily spoken in the country of its origin, but it's much more complicated than that. Many entrepreneurs make a mistake by choosing to target only one language on the assumption that "its popular" or target one country using only one language when the people there speak multiple languages. Let's do quick research on this. According to the latest data from Statista, the list of the most common languages used on the Internet in the first quarter of 2019 includes the following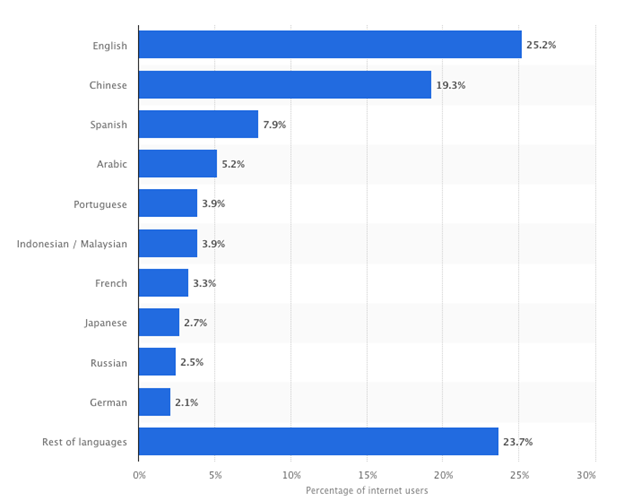 Source: Statista
As you can see, English is leading the pack with 25.2 percent of Internet users, but this doesn't mean that using this language automatically means that you cover all bases while expanding to another country.
Switzerland is without a doubt one of the best examples that illustrate that point. It's easy to assume that English is widely spoken there, but the reality is that the country has four official languages – German, French, Italian, and Romansh. English has no official status but is spoken by many, but should you risk by choosing to go with it?
Well, you shouldn't. It's a well-known fact that more than 72 percent of online shoppers are more likely to make a purchase if the product information is available in their language (in fact, for 56.2 percent of consumers, the ability to obtain information in their own language is even more important than price!).
So, your decision should be made based on the following:
Targeting countries is a better option if your business sells physical products and services and has locations in that country
Targeting languages is a better option for SEO for attracting traffic through content and selling digital products and services that don't require your physical presence in that country (apps, website themes, etc.)
Step #3: Localize Your Content
Automatic translation is a sure-fire way to undermine the reputation of your website (for example, Google treats it as spam), so you should definitely be careful when localizing your content.
The first step in localizing should be translation, and the second one should be the point where you ensure that the new content makes sense to the target audience and doesn't offend them in any way (that's why it's recommended to conduct the translation – as well as keyword research – with the native speaker).
Pay attention to the length of the localized copy (it needs to fit the UI), dates, numbers, characters, texts embedded in graphics, as well as cultural differences. For example, there are many idioms that, when translated literally, won't make sense to people from different countries, such as the Argentinian "Look for the fifth leg of the cat," which means "Looking for something that isn't there."
Step #4: Provide Different URL for Each Version of Your International Website
If you offer content in different languages for your international audiences – and you should – then you definitely need to ensure that each audience has access to a version with the content in their language. This technique works not only for users but for the search engines. In fact, Google makes it very clear that it's the best way to help its users to find your pages.
So, your website should have a separate structure for each country you're targeting, and you can do this by using ccTLDs, sub-directories, or sub-domains. However, if your goal is to target languages, then your best option is to use sub-directories or sub-domains. Let's take a closer look at each of these methods for structuring and splitting international versions of websites in the next step.
Step #5: Make a Choice of a Website Structure
Option 1: ccTLDs
This is defined as "country code top-level domain," which is essentially an extension of the domain dedicated to specific geolocation or a country, e.g. mywebsite.pl or mywebsite.de. For businesses, it's the best way to tell Google that their site is relevant to a specific local market. Naturally, this option is the best way to go with if you're targeting a country, not a language.
While ccTLDs are considered to be clear geotargeting signals for Google that helps with increasing ranks in the targeted country, they are also resource-intensive and require you to meet the hosting requirements of that country.
Option 2: Subdomains
This is a root domain that is considered by Google as a separate entity despite being a part of the larger web structure. You've definitely seen these ones before:
pl.mywebsite.com
de.mywebsite.com
While subdomains are very easy to produce and provide reasonable flexibility, they also are often perceived by international customers as less trustworthy and have a number of problems with user-friendliness.
Option 3: Subdirectories
Essentially, these are folders for separating content for different audiences on the same website, e.g. mywebsite.com/pl or mywebsite.com/de. Subdirectories are known to be cheap to manage and maintain and be pretty flexible targeting-wise, but there are some drawbacks, too; for example, one can't add them to ccTLDs because the website containing subdirectories is geotargeted automatically.
So, what's best for your business?
ccTLDs are better for targeting several countries
Subdomains are more suitable for targeting global markets
Step #6: Perform International Keyword Research
As I've mentioned it before, conducting multilingual keyword research is something that you should do with a native speaker. This can help you to avoid confusion and adjust your keyword to the local language and culture in a proper way.
For example, you can start by identifying keywords in English that you use to attract traffic to each page of your website, and have them translated to the foreign language by the native speaker. Then, you can perform keyword research with an appropriate tool (SEMRush Keyword Research Tool, Google's Keyword Planner, etc.)
SEMRush is a great tool to make your keyword research easier and faster because it helps to find search volumes, the keywords used by competitors, and other helpful indicators in the country you're targeting.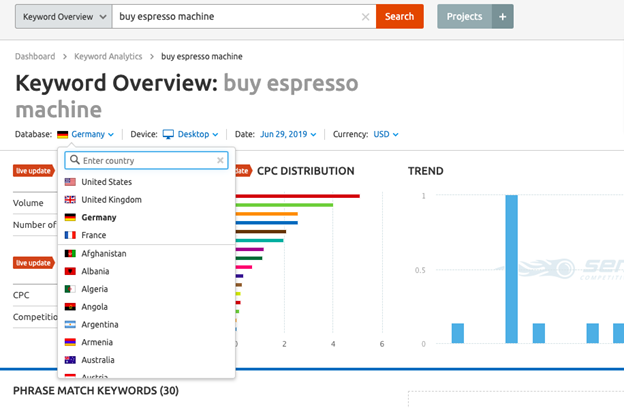 International Keyword Research with SEMRush
Use a spreadsheet to map your keywords to English equivalents, and make sure to add them in your content, meta descriptions, meta titles, but make sure you do it a natural way.
Step #7: Remember about Other Search Engines
I realize that I've used Google a lot of times in this article and didn't give an appropriate mention to other foreign search engines, which doesn't mean that you shouldn't consider them in your international SEO strategy.
It's always recommended to check whether the country you're targeting uses other search engines instead of Google by evaluating the share of different engines. For example, according to the data by StatCounter, Baidu has the biggest share of the Chinese search engine market with 64.55 percent, followed by Sogou with 18.32 percent and Shenma with 7.97 percent.
Surprisingly or not, Google handles only 3.23 percent of the local search requests. So, if you followed the requirements of Google toward SEO and disregarded local players, chances are high that your results wouldn't be as high as they could be.
Step #8: Implement Hreflang Properly
I've mentioned Hreflang above, and now is a good time to finally know why you need to implement it and how to do it properly. You see, to crawl, index and display a proper page of your website in local search results, an engine requires the information about different variations as well as how they are linked.
Hreflang is a good way to supply this information because it identifies the language of a web page as well as the targeted country. In fact, Google also suggests you do this to help it recognize localized pages.
By using hreflang, Google and other search engines allow you to target specific languages, countries, both countries, and languages, and one country with multiple languages. This technical SEO signal should be added to the <head> of your website (we'll use this method below, but you should also know that you can also implement hreflang in XML sitemaps and HTTP headers).
Here are some examples of hreflang implemented using the HTML <head> method (targeting several countries with one language):
<link rel="alternate" hreflang="x-default" href="https:// www.mybusiness.com/page" />
<link rel="alternate" hreflang="en-US" href="https:// www.mybusiness.com/page" />
 <link rel="alternate" hreflang="en-GB" href="https:// www.mybusiness.co.uk/page" />
<link rel="alternate" hreflang="en-AU" href="https:// www.mybusiness.com.au/page" />
Here's how to interpret each of these lines:
<link rel="alternate" hreflang="x-default" href="https:// www.mybusiness.com/page" />  (this is the default version)
<link rel="alternate" hreflang="en-US" href="https:// www.mybusiness.com/page" />
(this is the American version that is supposed to be indexed for U.S-based visitors)
 <link rel="alternate" hreflang="en-GB" href="https:// www.mybusiness.co.uk/page" />
(this is the British version that is supposed to be indexed for UK-based visitors in English)
<link rel="alternate" hreflang="en-AU" href="https:// www.mybusiness.com.au/page" />
(this is the Australian version that is supposed to be indexed for Australia-based visitors in English).
If creating these hreflags seems a bit difficult, you can use third-party tools. For example, Google recommends Aleyda Solis's hreflang tags generator tool.
Step #9: Run a Multilingual Marketing Campaign
Implementing the above multilingual SEO optimization tips doesn't automatically mean that your website will get lots of visitors when it goes live. That's why you should support your SEO strategy with content marketing campaigns featuring optimized content in the target language, for the targeted country, as well as link building techniques.
Wrapping Up
Hopefully, these nine steps have helped you with understanding how to begin a multilingual SEO strategy that makes the most sense for your business. Once you master each of these steps, you'll know exactly how to target your potential customers in other countries and develop your business further.
You may also be interested in: SEO for the geo-tagged and multilingual sites